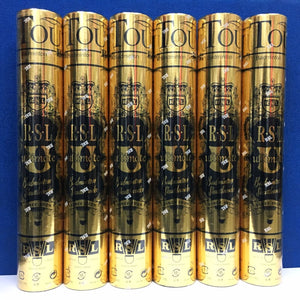 RSL Classic Series ULTIMATE Shuttlecocks
Regular price $259.00 Sale
RSL ULTIMATE Shuttles
The number of Ultimate shuttlecocks produced annually are limited due to the following factors:

Special grade of Goose feather is chosen with cooperation with Goose farms in North Eastern parts of China, collected once a year near winter time, where the weather is cold giving the goose the thickest and strongest feathers with unrivaled quality.

Hand crafted - Many years ago shuttlecocks were all hand crafted but slowly this trade has been replaced by automation. RSL wants to bring back the tradition of hand craft and mix it with the latest development in shuttlecocks and all their know-how in feather, to give you the most durable, rock solid flight and accurate speed with the best feel.

Therefore Ultimate to be sold usually by pre-orders only, and we are here happy to offer them for you as we are their official and authorized dealer. 
Speed 50